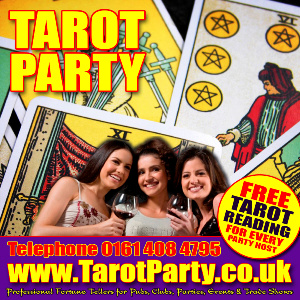 Organise a Tarot Party at your house & receive a FREE Tarot Reading in return!
To thank you for organising your Tarot Party, and inviting guests, you will receive your Tarot Reading at no charge. Tarot Parties are a fantastic way to have fun with your family and friends.
All you have to do is invite the guests, supply the wine, nibbles and music and we'll do the rest! All we require is a table and a couple of chairs, preferably in a separate room.
Our readers are carefully chosen to ensure that your Tarot House Party is a fantastic success.
Call us on 0161 821 1895 today to find out more & book your Tarot Party
Tarot Party are one of the leading suppliers of Fortune Tellers for House Parties in the UK.